New Baby Flowers
Our shop has a lot of great unique baby gifts on hand for any new mom or baby, in addition to flowers. Hoping for a unique shower gift? We also have a lot of items that we can put into a baby gift basket, such as, lotion, powder, baby bottom salve, all made from very gentle ingredients for baby, and cute packaging too! We also have baby blankets, books, stuffed animals, and a plethora of other unique items. Stop by our store or give us a call to place an order for something truly special. Let us take care of all your baby gift needs, and we deliver too!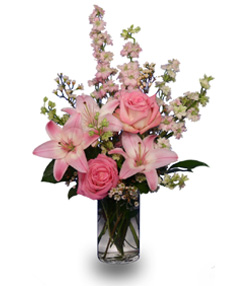 PRECIOUS PINK ARRIVAL
Flowers for Baby Girl
Order this bouquet in pinks for girls or blues for boys, yellows or whites.... beautiful in any shade!